Red (JYJ's Unity Colour) and of course, Green (Jae's personal colour) ^___^
JYJ3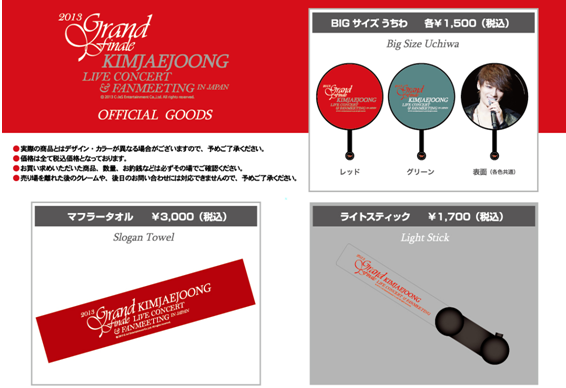 Members, thank you for your continuous support for Kim Jaejoong.
This is the guide to the sale of goods for his Yokohama concert on June 24-26.
Note that there will be no online sales. Selling will be on location only during the concert dates.
Goods:
– Big uchiwa (either red or green) – 1,500 JPY (tax included)
– Muffler towel – 3,000 JPY (tax included)
– Light Stick – 1,700 JPY (tax included) Note: Only 1 pc per person per purchase
Planned selling time:
June 24 (Monday) – 130 pm onwards
June 25 (Tuesday) – 1 pm onwards
June 26 (Wednesday) – 1 pm onwards
– Because there's only limited quantity, sale of products will stop as soon as they are sold out each day.
– Depending on the situation, the start time of selling might be changed.
Location:
Yokohama Arena main entrance
Notes:
– Although you can use previous…
View original post 108 more words